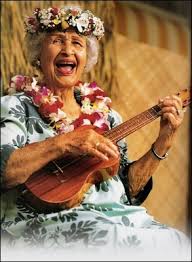 Last week, my Fun Fact for hula class was about falsetto singing in Hawaiian music. I started reading about it as I learned more about the song that we are dancing to now, "Kaua'i Beauty." The song was written in 1929 by Henry Waia'u. It celebrates the beauty, the plants, the flowers and the fragrances of the island of Kaua'i and thus is known as a
mele pana
, or a song about a legendary or special place.
Kaua'i Beauty is also a classic of falsetto singing. In the version we dance to, Kalei Bridges begins singing in his natural (low) voice, but after a few measures his voice begins to soar.
Falsetto is the type of singing when the voice goes from the lower register to the upper register. In Western, or European music, that transition is meant to be as smooth as possible. But Hawaiian singers make a point of catching their voice just as they make the move to higher octaves. That catch is called
ha'i.
There are various falsetto singing contests around the Hawaiian Islands. One of the areas in which singers are judged is how they make the
ha'i
. That catch of the voice is meant to convey deep emotion.
Falsetto singing is not traditional, although traditional chanting, which sometimes features a tension in the vocal chords that sounds somewhat like yodeling, is said to be an influence. Other influences were Christian hymns that Hawaiians learned from missionaries, and the cowboy yodeling of the
paniolos
, the cowboys who came from Southern California and Mexico in the 1830s to help round up the feral cattle left on Hawaii Island by Capt. George Vancouver.
The Hawaiian term for falsetto singing is
leo ki'eki'e
, literally high voice. It was originally practiced almost exclusively by men, but women singers have made their mark. The late Genoa Keawe (pictured above) was famous for her soaring voice. These days, Amy Hanaiali'i Gilliom is carrying the torch for female falsetto singers.